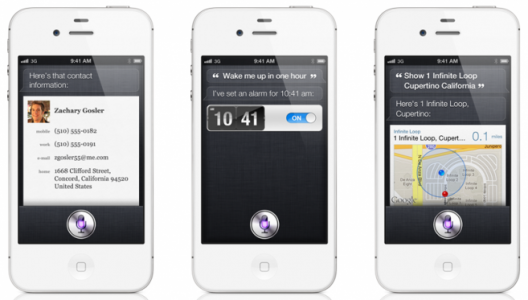 All of you iPhone 4S owners out there I know are enjoying all of your new features along with Siri. We all know about Siri: what it can do and what it can't. Siri is of course still in Beta form but apparently some good folks where able to teach the artificial intelligence, virtual assistant some new tricks for its users to take advantage of. Below are tricks to get Siri to become more social for you as well as teach it how to pronounce names.

How To Get Siri To Post On Facebook, Twitter, Or Google +
For Facebook, text "Hello" to 32665 in the United States (or the short code for whatever country you're in), then follow the link in the reply to finish the setup process. Add the short code to your Contacts, and name it "Facebook." That way, you can tell Siri to "send a text to Facebook saying …"
For Twitter, text "START" to 40404 in the United States (or the short code for other countries), then respond with your username, then your password. Add the short code to your Contacts with the name "Twitter."
For Google+, visit your settings page and scroll down to "Set delivery preferences." Add your cell phone number, but be sure to click "don't notify me" if you don't want incoming Google+ messages by text. Verify your number with the code you receive by phone, then add the short code "33669" (in the U.S.) to your contacts as "Google Plus." Updates are shared with everyone in your circles.


More Siri tricks can be here at Techland and below is how to get Siri to properly pronounce names.
If Siri can't understand your name or the names of your contacts, worry not; you can teach pronunciations to Siri by adding phonetic first or last names for your contacts. You'll find this option in the Contacts app, toward the bottom of the page for the person you're trying to reach. If phonetic names don't work, you can also add a nickname.


Enjoy!