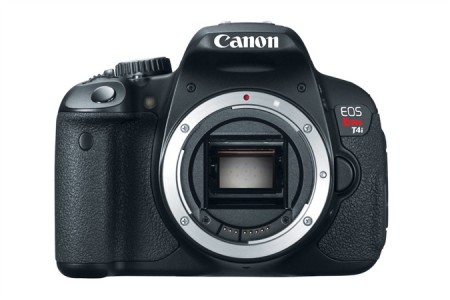 After midnight, Canon unveiled the latest in the Rebel series with the EOS T4i that beefs up its abilities from the T3i. Canon aimed to make the T4i the most consumer-friendly DSLR catering to those who would upgrade from a point-and-shoot level. Let's dig into Canon's new treats shall we? The T4i is equipped with a 18MP sensor, DIGIC 5 processor, high speed shooting of up to 5 frames per second, capable of reaching ISOs up to 25,600, and a 3inch LCD touchscreen display. But wait there's more.
The T4i offers a new 9-point auto-focus system that provides for a more sharper image. Also this is the first Rebel that offers a built-in stereo mic that can reduce some background noise and added several new shooting modes to improve your images & video. Canon still has more.
Canon unveils 2 new lens that are part of their new STM (Stepping Motor Technology) line that allows for continuous auto-focus while recording video. One lens is an 18-135mm at f/3.5-5.6 priced at $549.99 and a smaller 40mm f/2.8 priced at $199.99 both due out at the end of June. Definitely makes you to add these to your optical arsenal.
The T4i is scheduled to launch at the end of June for $849.99 for the body. The body + the standard 18-55mm lens kit will have a $949.99 price tag. And lastly, the body + the 18-135mm STM lens will cost you $1199 as part of a Movie Kit bundle.