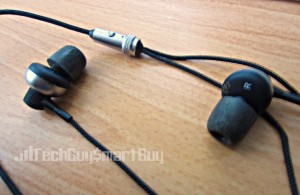 Back on our review agenda is the EP2s by RBH Sound.  They are back with another set of earphones.  We reviewed their 1st pair (the EP1s) back in September and we are here to give the sequels a spin inside of my ear canals.  Read on below for my complete analysis on these new earphones.

"RBH stuck with the old adage: If it ain't broke, don't fix it."
The design scheme on the EP2s is quite similar to the EP1s if not identical…for the most part.  RBH stuck with the old adage: "If it ain't broke, don't fix it."  They retained the cloth-woven cables for a tangle-free experience as well as the memory foam-like Comply tips for ideal noise-cancellation.
What is visibly new here is the mic which was missing in the EP1s.  There are some ups and down with it though.  What's good about it is that the mic has a control button that works with both Apple & Android devices to control your music (play/pause/skip + repeat track) as well as to answer/end calls.  What's bad about it is that the mic is placed a bit low for comfortable phone conversation where I can actually be heard.  When I held the mic closer to my mouth using the provided shirt clip, the audio quality was great as I was received quite clear.  If it was a higher like say on right earphone like Apple's Ear Pods, then hands-free calling can actually be achieved.
The EP2 sound was bigger, bassier, & louder.  Love It!
I was actually satisfied with the previous model's sound quality until I used these.   The new 13mm dynamic driver provides an even deeper bass response and louder playback without any additional distortion for the most part.  Ideally suited for bass-heavy music but handles pop & alternative music just as good.  The EP2s are easily comparable to other high-end audio solutions like Klipsch, Bose, Sennheiser, etc.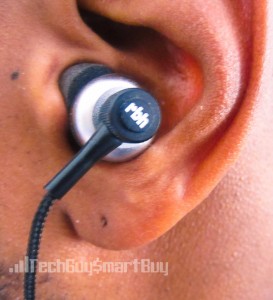 Side note: You need to use the Comply tips to achieve maximum noise cancellation.  The spare silicon tips won't block out as much background noise.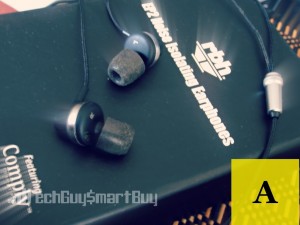 The EP2s have even better sound but if they put the mic in a more convenience place, this would have been damn near perfect.
The EP2s was an overall pleasant experience.  Think of them as a modest upgrade. Like I stated previously, the placement of the mic could have been better for optimal hands-free calling.  RBH still continues to provide a premium listening solution along with great packaging.  You get everything in a black box with a folding magnetic cover, spare silicon tips to accommodate various ear sizes, and shirt clip.  If you are in the market for a pair of new earphones, give em a shot.
Equipped with a $179 price tag, the EP2s does offer quite the package with it.   RBH does exactly what it sets out to do by offering a premium audio experience.  If you want the premium sound and want to save some $$$ too, you can pick up the EP1s
here
.