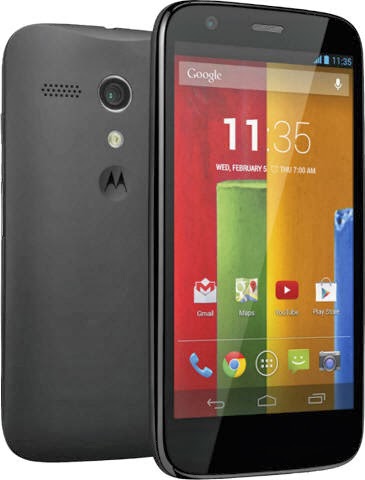 Just as Motorola promised, today is the day where we see the next iteration of the Moto series of devices w/ the Moto G. Just off the heels of the Moto X price cut and Moto Maker becoming available for all major US carriers, Motorola is paving the way to release another branded device into the market.

The Moto G is sporting a 4.5inch 720p LCD display, powered by a 1.2GHz quad-core Snapdragon 400 CPU, running Android 4.3 Jelly Bean w/ v4.4. KitKat coming in a few weeks, 1GB of RAM, choice of 8GB or 16GB of storage, you get a bonus of 50GB of Google Drive free for 2-years, dual cameras (1.3MP in front + 5MP on the back that records video in 720p), Bluetooth 4.0, a water-repellant coating, and a 2070 mAh battery touting 24-hours of usage.
No Active Display, Quick Capture, Moto Maker or Touchless Control on-board with this one.
Despite the subtraction of the popular Moto X features, the backplate is removable and comes in a variety of 19 colors for you to swap from. No word on any LTE connectivity anywhere as HSPA+ might be as fast as it goes. The Moto G is expected to arrive early January and will be unlocked w/ the 8GB costing you $179 & the 16GB $199 contract-free from Motorola.com.
If the Moto X is their mid-level and the G is their entry-level, Motorola has me curious about what their high-end Moto will look like.