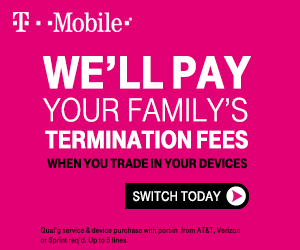 T-Mobile is continuing to bring the fire w/ the 4th installment of their Un-Carrier initiative.  Which is one year when the Un-Carrier movement began.  As previously rumored, the carrier is making the switch from your soon-to-be old carrier to T-Mobile easy as the company will pay your ETFs (Early Termination Fees) for you.  The rumor caused AT&T to launch their pre-emptive version of this last week but it required users to jump on their early upgrade plan for it to make sense financially.

Families switching over will have to jump on T-Mobile's Simple Choice plan to get the $$$. 
With T-Mobile's model, they will pay you and your family's ETF (up to $350 per line for up to 5 lines when you leave AT&T, Sprint, or Verizon).  You'll have to trade in your devices of course.  After you get the final bill from their old carrier w/ ETFs, you can mail it to T-Mobile or upload it to www.switch2tmobile.com and you're done. This kicks off officially tomorrow.