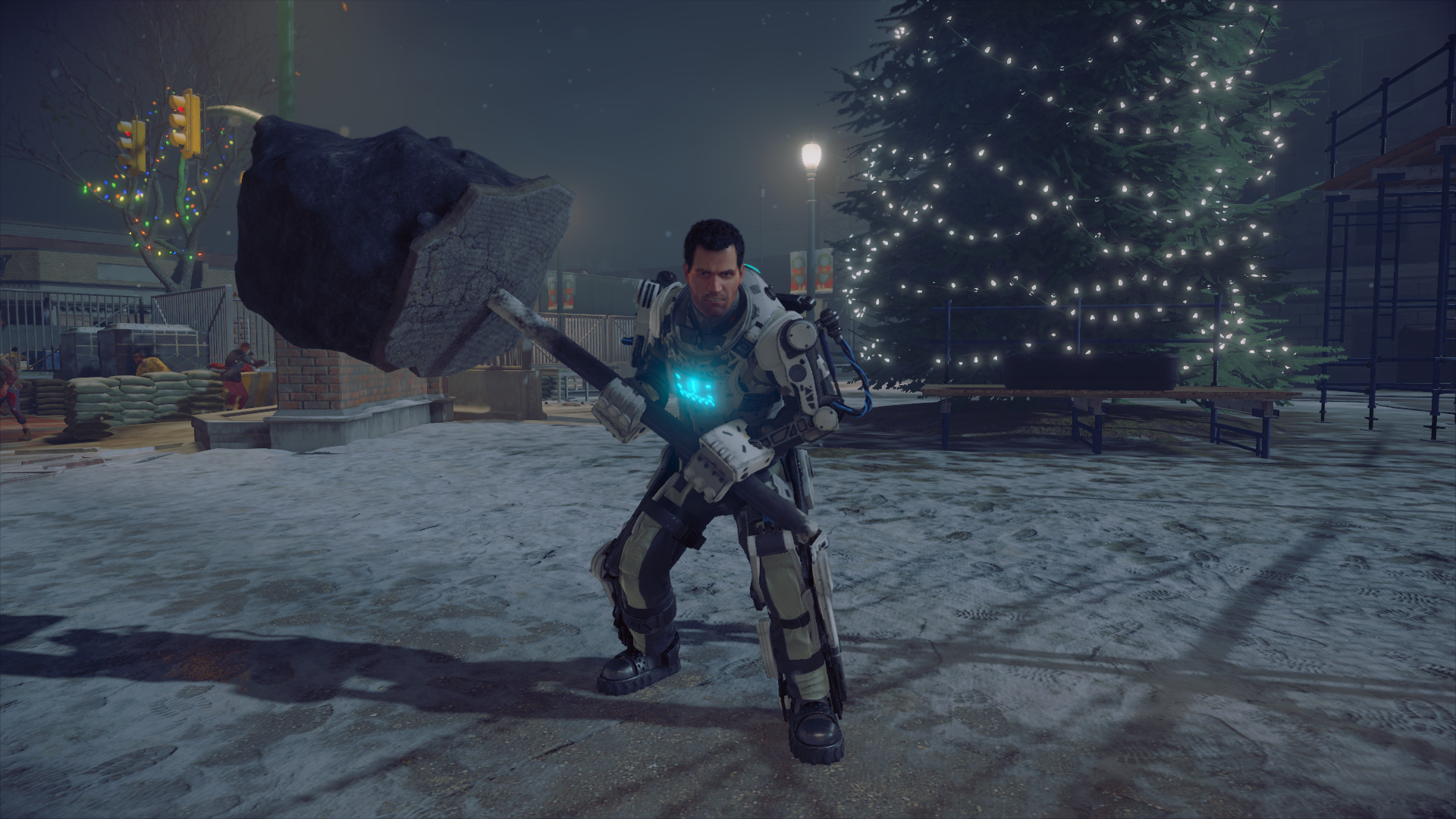 Kind of hard to believe that the 1st Dead Rising came out a little over 10 years ago.  Crazy, right?  Part 2 had an ex-motocross champ Chuck Greene and part 3 had mechanic Nick Ramos.  We're now entering the 4th part of the series and brings back the original protagonist, Frank West.  
Frank returns to Willamette, Colorado and the government is still experimenting on folks & zombies alike.  So believe it or not, it's up to the somewhat cocky photojournalist to save the day - again.  (Not any sarcasm, just about the incompetence of everyone else).  Gone is the 72-hour clock that was present in part 1.  So now you have all the time in the world to explore every part of the town.  Welcome to Dead Rising 4.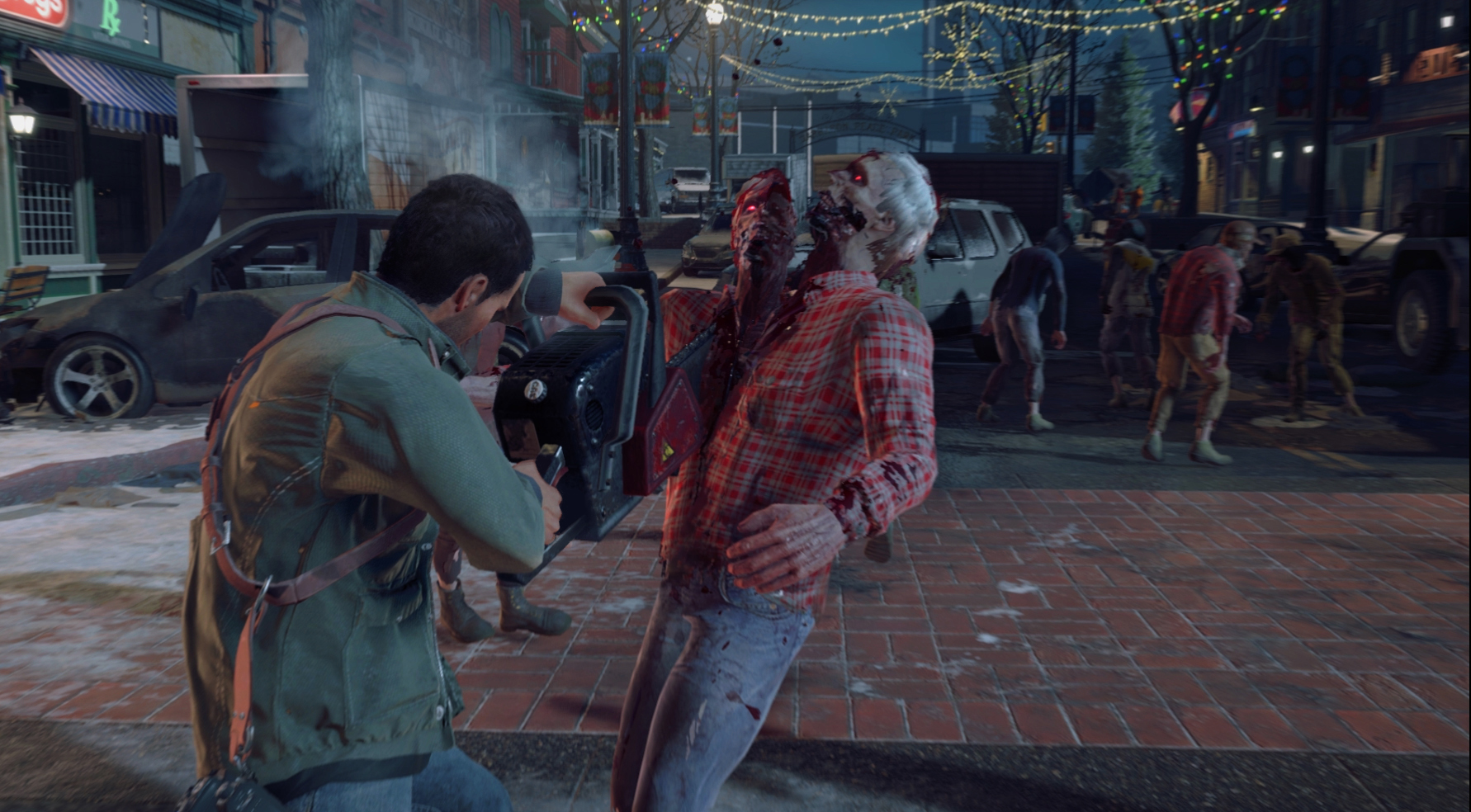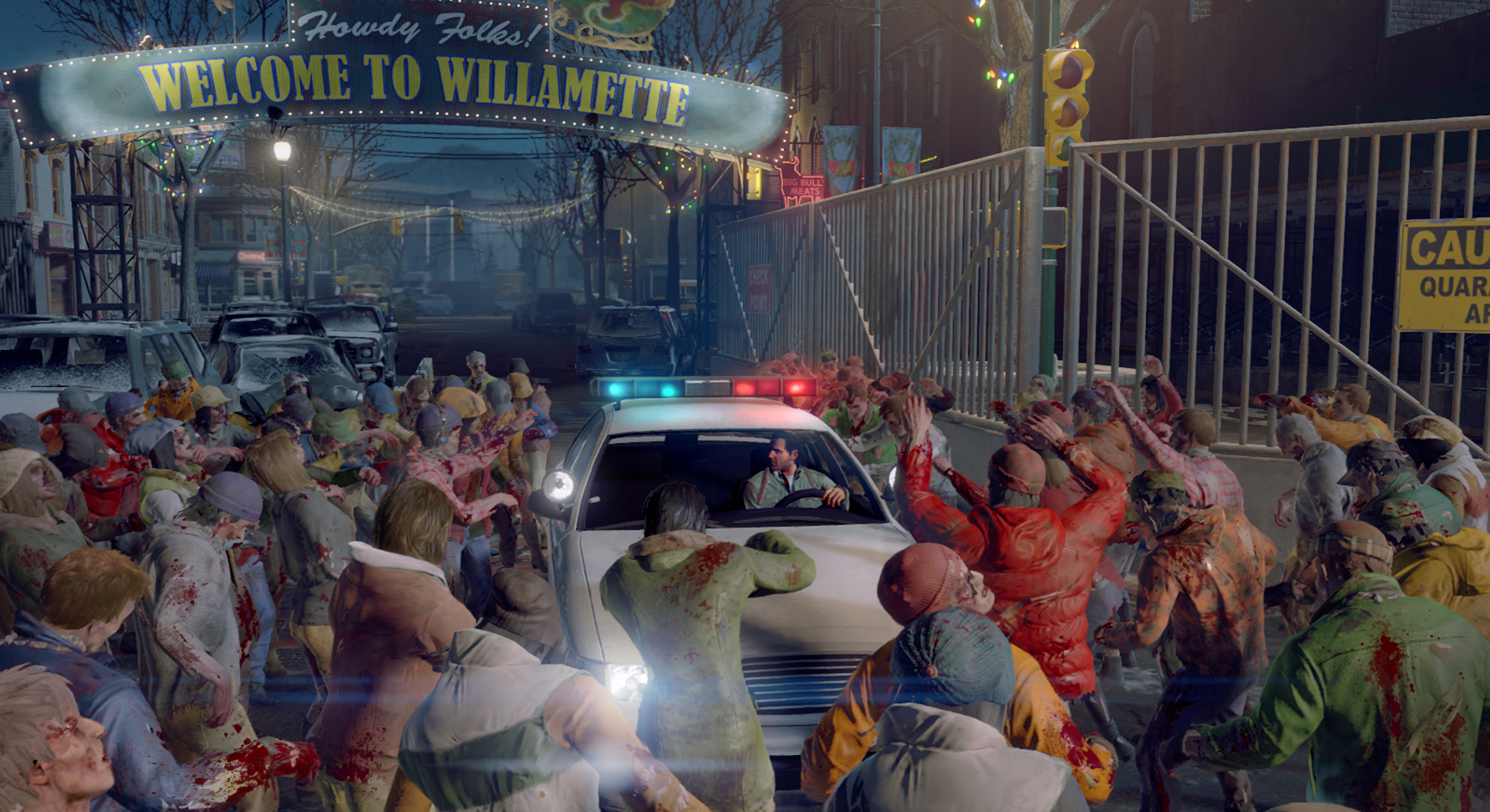 The game starts off in a weird dream sequence where you control Frank chasing a ghost throughout the Willamette Mall.  The ghost tells him that he must go back.  In reality, we see Frank is now an investigative journalism professor at a college.  He is helping out a student of his, Vick, to a research station but tricks him as its in Willamette.  
The encounter goes to hell and you wind up being a wanted man as Vick leaves you behind.  While laying low, you get tracked down by Colonel Brad park of the Zombie Defense Branch to combat a new outbreak that kicked off during Black Friday sales at the 'infamous' Willamette Mall.  You find out that Vick as been in town for months already doing her own dangerous way of investigating.  This is where you begin to fight and figure things out.  
The bad guys of DR4 are broken down into 3 tiers: the zombies (regular, 'fresh' ones, & enhanced ones), the Maniacs (extremists causing havoc), and the military-like Obscuris soldiers (regular & Exo-Armor ones).  But in regards to the story, you don't have to kill everyone moving on the screen.  I mean you can, but you'll go through tons of ammo, weapons, etc. in the process.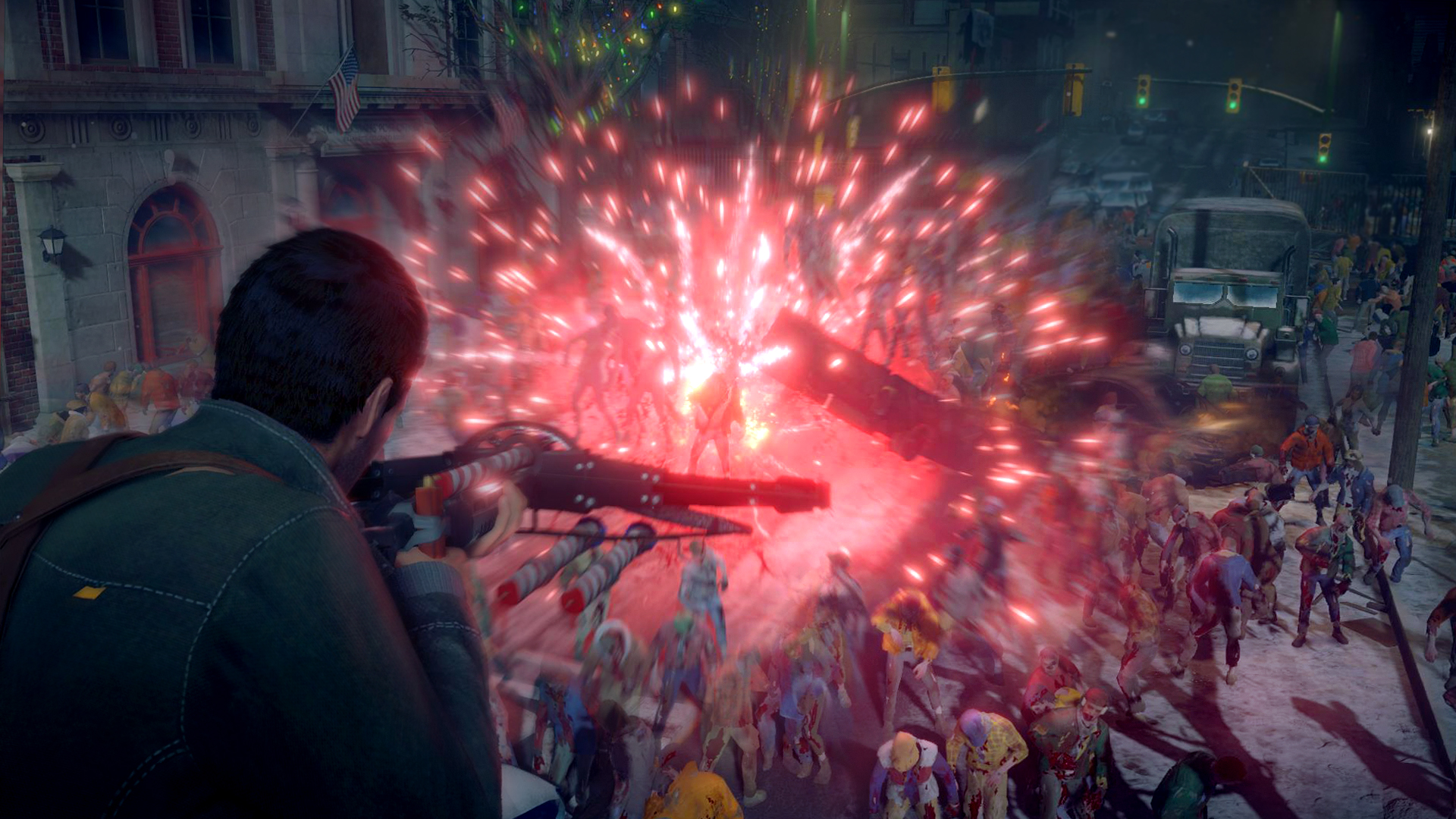 Dead Rising 4 has more creativity when combining items to make cooler weapons & vehicles.
You pick up Blueprints throughout the game and this is how you will be able to combine 2 items/weapons/vehicles to create a hybrid of the 2.  My favorite weapons are the Ice Sword (a blade + liquid nitrogen) and the Blast From The Past (a sledgehammer w/ grenades on it) .  As I can work through a crowd of zombies a lot easier than using an Assault Rifle or RPG.  On the vehicle side, the Kill-O-Watt (part shopping kart, part go-kart) was the most fun.  This definitely helps maximize the damage you bring as well as the fun.  
Let's not forget that Frank is a photojournalist BTW.  So you have to take some photos and doing some sleuthing.  Instead of an average camera, Vick actually hooked you up by adding a Night Vision & Spectrum Analysis filters.  The night vision is a bit self-explanatory while the Spectrum Analysis acts similar to Batman's Detective Mode from the Arkham series.  Each filter helps out in different times when you trying to tie the pieces together.
Throughout your travels, you can rescue humans from zombies and the Maniacs for a reward.  The good thing is that now you don't have to give up a weapon or escort them to safety.  Now after you save them, they're good.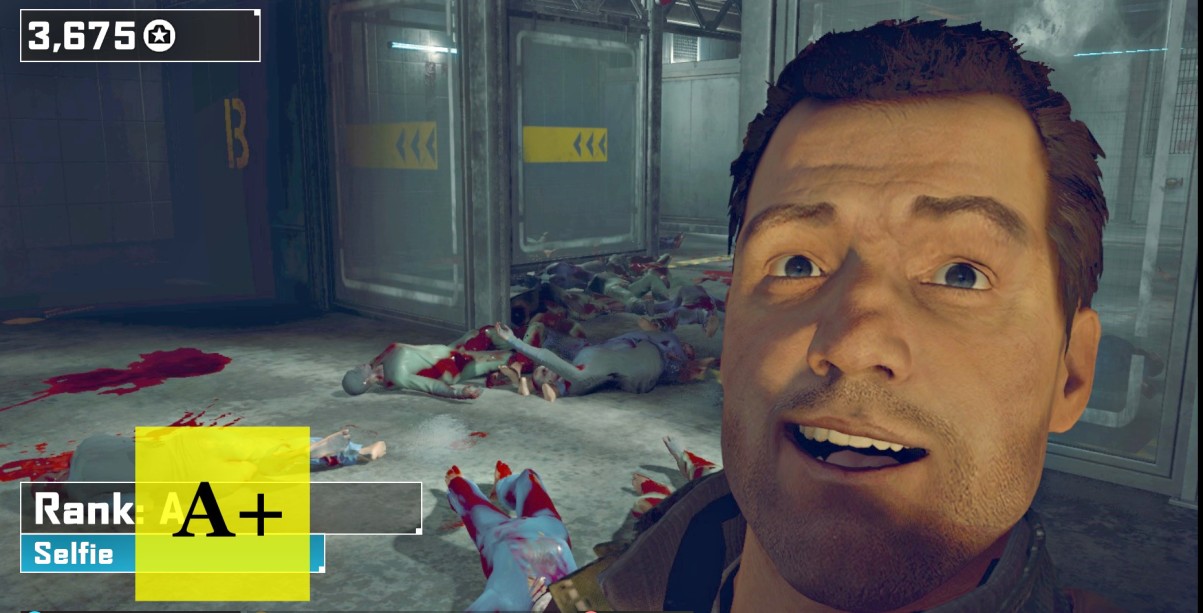 It's everything you loved about the Dead Rising series but better.  
TG 2 Cents
Dead Rising, welcome back!  What took you so long (well, not that long).  Capcom makes sure to retain all of the core features that made the game great before.  Witty banter from the main character, a story that doesn't take itself too seriously, and fun in killing zombies & others w/ tons of ways to do it.  For me, don't change a thing.  You'll enjoy the 20ish hour campaign unless you do all the side missions, then it gets longer.  
If you haven't played any of the Dead Rising titles before, this is the perfect one to dive into.  You don't need to know anything about the previous games to play it and enjoy along w/ everyone else.  This is an ideal game for those of you who are gaming w/o friends due to all of them owning a PS4.  There is a multiplayer option but the solo campaign is really where all of the fun is.