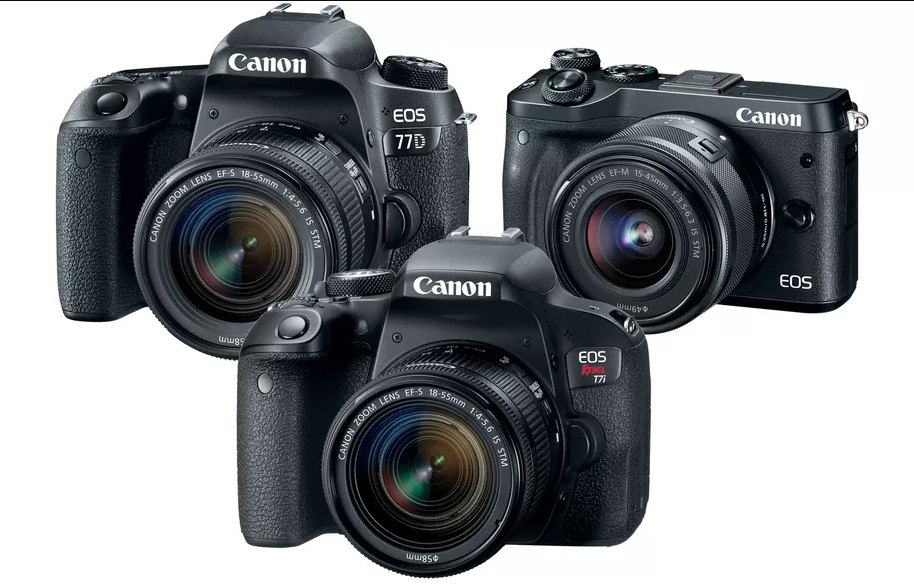 Earlier this week, Canon updated 3 of their EOS entry-level shooters to beef up their abilities.  Namely, the Rebel T7i, the 77D, and the M6 to be exact.  And who doesn't want a faster, more capable shooter? 
Don't look for any 4K video abilities for some reason.  
The Rebel T7i & the 77D offer a lot of the same abilities & features for the most part.  The T7i is the new entry-level, consumer DSLR while the 77D is a slightly higher-ed alternative.  Both are powered by Canon's latest DIGIC 7 image processor, sports their 45 AF points from their DualPixel auto-focusing system from the Mark IV, 24.2MP sensor, ISO 100-25,600, continuous shooting at 6fps, a 3inch touchscreen LCD that flips out, and Bluetooth/NFC/Wi-Fi connectivity.  The 77D just offers a slightly larger body, an extra control dial, a better metering sensor, anti-flicker mode, and an extra LCD screen on the top to faster access to settings.  
And lastly, the M6 is a newer version on their take at a mirrorless shooter really aimed at the vlogger crowd.  This is similar to last year's M5 but in a smaller body.  You ge tthe DIGIC 7 image processor here as well as a 24MP sensor, ISO 100-25,600, DualPixel auto-focus, 1080p video @60fps, Bluetooth/NFC/Wi-Fi connectivity, and a 3inch LCD that flips up so you can see yourself when shooting alone.  
All 3 shooters are due out sometime in April.  The T7i will cost you $750 for the body & $900 w/ a 18-55mm kit lens.  The 77D will cost you $900 for the body, $1300 w/ 18-55mm kit lens, and $1500 w/ 18-135mm lens.  And the M6 will cost you $780 for the body, $900 w/ 15-45mm lens, and $1280 for the 18-150mm lens.  
So which one are you picking up or is not having a 4K video option a deal breaker for you?