We already knew it was coming and earlier this morning, Motorola & Verizon made the Moto Z2 Play official.  Consider this a moderate upgrade from last year's all-around great device from Motorola.  It has a thinner body, slightly smaller battery, new tricks, and an upgraded camera.  
The Z2 Play offers a 5.5inch 1080p display + 401ppi, powered by a Snapdragon 626 CPU, option for 3GB RAM/32GB storage or 4GB RAM/64GB storage, a new f/1.7 12MP rear-facing camera + f/2.2 5MP front-facing camera, fingerprint reader, running Android 7.1.1, USB-C, and a 3000 mAh battery. 
The Z2 Play is set to arrive in July for Verizon and unlocked version for $499 on Motorola.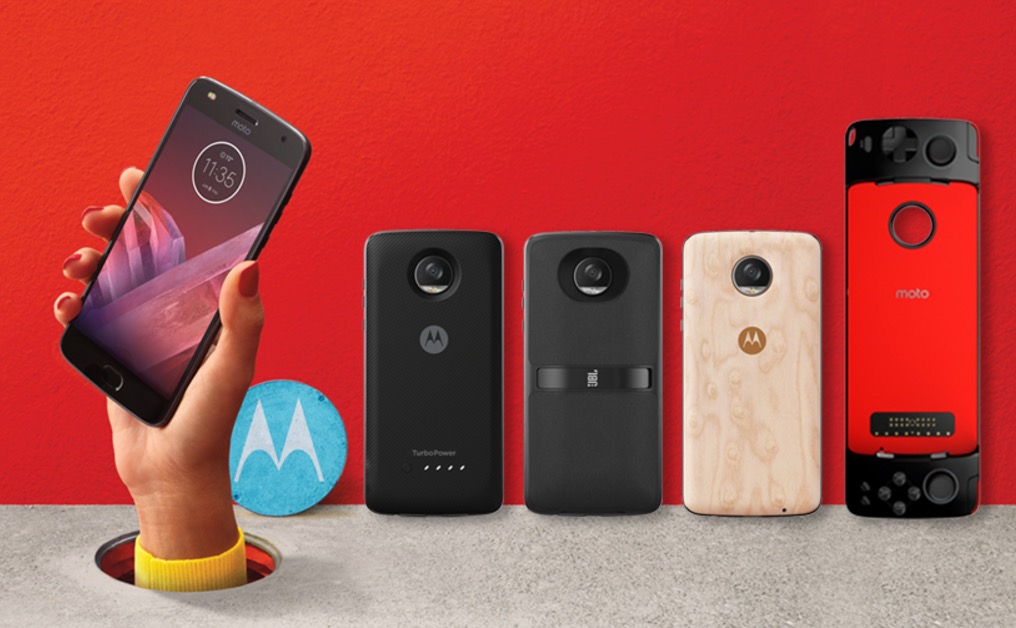 Along w/ the new Z2 Play, Moto dropped some new Moto Mods for us.  Of course, this will support the 1st-gen Moto Z smartphones as well.  
Moto Gamepad: This is a gamepad that you dock your phone in to give you that fully-controlled gaming experience.  It has dual control sticks, D-pad, and four action buttons, along with its own 1035mAh battery. 
JBL SoundBoost 2: An update to the first SoundBoost, this new SoundBoost 2 speaker can last up to 10 hours, features a new design with fabric for a better feel in your hand, and has a water-repellant coating. 
Moto TurboPower Pack: Similar to the TurboPower charger, this Moto Mod allows you charge your Moto Z phones fast, rather than the sipping style from previous power packs. It houses a 3490mAh battery that also recharges fast. 
Moto Style Shell w/ wireless charging: The new Style Shell is a bit more functional than before.  It now adds wireless charging abilities in a sleeker design.
The new Moto Mods will be available globally this summer, with Moto TurboPower Pack starting at $79.99 USD, Moto Style Shell with Wireless Charging at $39.99 USD, JBL SoundBoost 2 at $79.99 USD and Moto GamePad at $79.99 USD.
So who's interested in the Z2 Play and the new Mods?