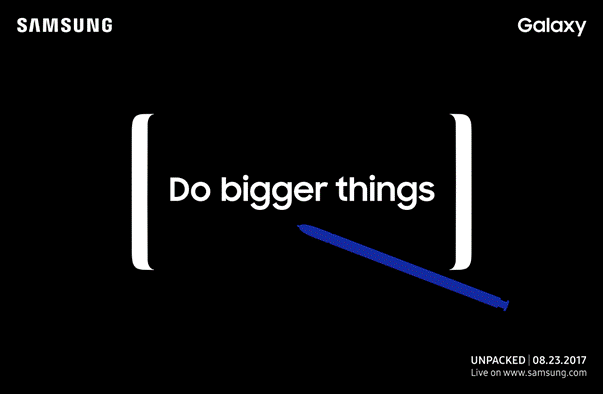 After conflicting reports of when it was supposed to arrive, Samsung finally set the record straight.  Earlier this afternoon, we got invites for an upcoming Galaxy Unpacked event for the Galaxy Note 8.  This will be happening in NYC on August 23rd at 11AM EST/8AM PST.  
The invite shows off the S Pen and a less rounded version of the Galaxy S8.  Rumors have the Note 8 armed w/ a 6.3inch Infinity Display, a Snapdragon 835 CPU, 6GB of RAM, dual 12MP rear cameras, running Android 7.1, a 3300 mAh battery, and an updated S Pen.  We're expecting n unveil w/ an official launch ahead of the new iPhones.   
Many customers have been waiting for it as we all know what to last year's Note 7 w/ the whole battery fiasco behind it.  So if you're gonna wait to see what this is about, you got a few weeks.  If you don't like what you see, you always got the Note 7 Fan Edition.