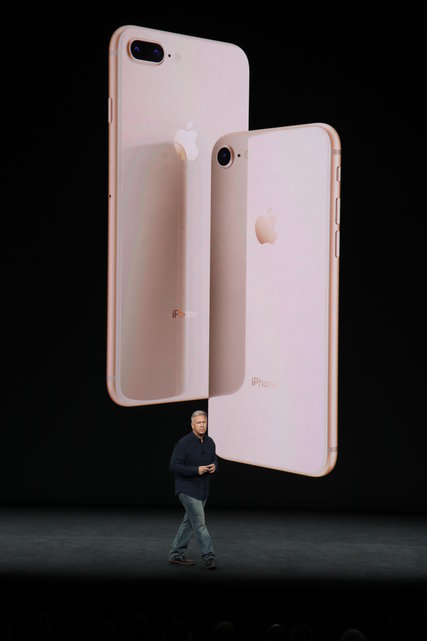 In a surprise move, Apple skipped the usual S-line of iPhones and went for the next number.  So instead of the iPhone 7S/iPhone 7S Plus were anticipating, we got the iPhone 8/iPhone 8 Plus. This year's colors are Silver, Space Grey, and Gold.
Apple brings us back to the glass rear design but this time around it will actually serve a purpose rather than just aesthetics.  This will help Apple pull off wireless charging but it may not be the fastest version available as Samsung probably has that taken.  It will be powered by a new Hexa-core 64-bit A11 Bionic CPU to better handle its built-in AR features of working w/ low-light & motion-tracking @60fps.  
The iPhone 8 has a 12MP rear-facing camera w/ OIS while the iPhone 8 Plus has dual 12MP sensors: f1.8 and f2.8 on the telephoto, both w/ OIS.  Along w/ that you got more video options this time around.  So now you'll be able to record 1080p @240fps, 4K @24fps, and 60fps.  The new beta feature on the i8 Plus this year is called Portrait Lighting: the dual cameras sense depth and rework the lighting while you compose the shot.
You got faster charging as well w/ Bluetooth 5.0, a TrueTone HD display, and no headphone jack.  The iPhone 8 will arrive in 64GB for $699 and the iPhone 8 Plus will arrive for$799 for a 64GB.  Both versions will offer a 256GB storage size as well.  Pre-orders kick off on September 15th, arriving on September 22nd, and iOS 11 officially coming September 19th.  
So now the question is: which iPhone do you get?