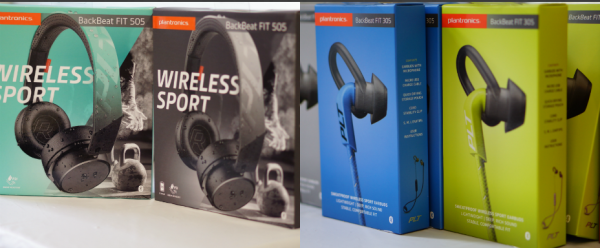 Before we enter the new year new me cliches, fitness is and should be important to us all to help us live longer & do more minus the pain & soreness.  Nevertheless, the folks over at Plantronics got some great headphones to keep the tunes playing while you get fit.   You got the BackBeat Fit 305 earbuds & the BackBeat Fit 505 headphones.  
The BackBeat Fit 300 is the lightest Bluetooth earbuds out right now weighing in at only 14 grams.  Along w/ being lightweight & sweatproof, you got a low-friction cloth cable, secure ear tip fit, 6 hours of battery life, and a 33ft Bluetooth range.  While the Fit 500 is more or less a more fitness-focused version of the Backbeat 500 series – which is a great thing.  We already dubbed them 'the best $80 Bluetooth headphones' and now they offer better protection against sweat w/ a sweat-resistant coating& memory foam earcups to better block out the noise.  You got 18 hours of battery life, 40mm drivers, & 33ft Bluetooth range to make this more of a complete package.  
For the holidays, we're giving away one of each as the 2nd part of our holiday giveaway.  So one lucky winner will get a Fit 305 & another will get a Fit 505.  This kicks off today and ends on Friday, December 15th @11:59 PM PST.  Winners will be announced @10AM on 12/18 and products will be shipped out shortly afterward.
Tell us which one you want in the comments and good luck to you all.
Plantronics BackBeat Fit Holiday Giveaway