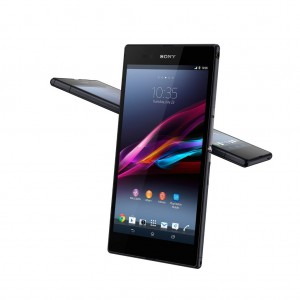 Earlier this morning, Sony held a press event to reveal their latest and powerful smartphone from their Xperia line. Meet the Xperia Z Ultra. Armed with a 6.4inch 1080p HD display, powered by a 2.2GHz Snapdragon 800 quad-core processor, running Android 4.2.2 Jelly Bean, 2GB of RAM, 16GB of storage expandable up to 64GB via microSD, 8MP Exmor RS camera, and a 3000 mAh battery. As if the massive battery wasn't enough for you, there is a built-in Battery STAMINA mode to help extend your battery life even further. Even more details lurk inside.

Sony wants to be your provider for big screen, mobile entertainment on a smartphone.
The Xperia Z Ultra is also thin, like super-thin. It's skinnier than the iPhone 5 but a bit heavier. Did we mention that this is water-resistant + dust proof as well? Yeah that too. The massive 6.4inch display does have stylus support to go against the Note II as well. The new Ultra Z support LTE and HD voice too BTW. Coming in a variety of colors of White, Black, & Purple to launch globally sometime in the 3rd quarter. Is 6.4inch too big of a display for you? What do you guys think?
We have a demo video of the device below.