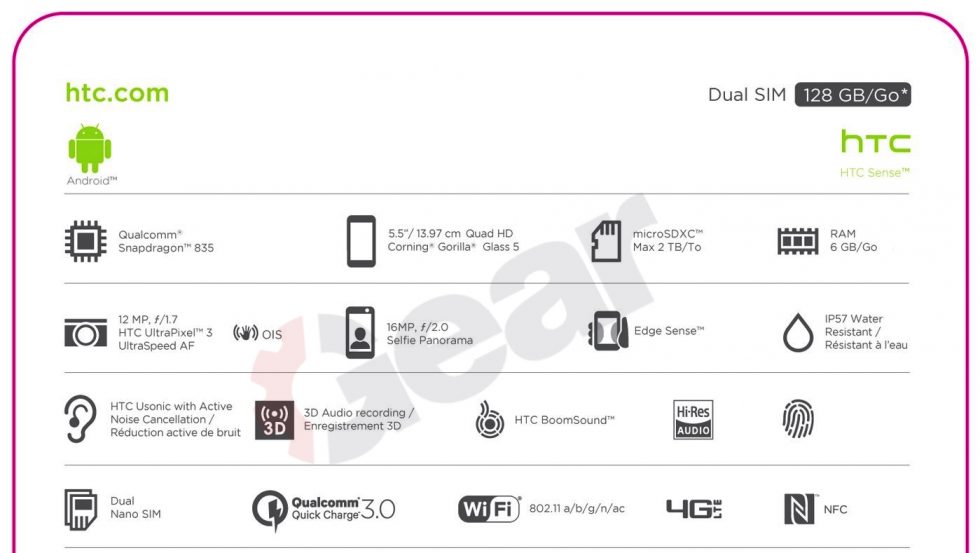 Well, there are only 15 more days before we get a chance to see what HTC's new flagship will look like and offer.  It will be called the HTC U or U 11 or whatever the hell they wind up calling it.  The folks over at Gear managed to get their hands on the back of its retail packaging that shows off all of the specs as you can see above. 
For the most part, it matches up w/ the previous leaked specs mentioned before.  The image above shows a 5.5inch QHD display w/ Gorilla Glass 5, Snapdragon 835 CPU, 6GB of RAM, microSD card support upt o 2TB, a f/1.7 12MP rear-facing camera + OIS, a f/2.0 16MP front-facing camera, IP57 water resistance, BoomSound, fingerprint reader, NFC, Android Nougat w/ Edge Sense UI.  
Just about everything listed above sounds damn-good minus the lower IP57 rating while every other phone maker is using IP68 rating.  Hey, the current rendition of the Pixel sports the same rating if I am correct.  So don't bash them too hard.  
The specs look super solid but we need to see what the Edge Sense UI will make it standout from the crowd.  Thoughts?